For more than two decades, Andrew Coleman, 2 time Grammy Award winning engineer, mixer, producer and guitarist, has been behind the boards for some of the biggest pop hits in this country and the world.
 As the chief engineer for Pharrell Williams and Chad Hugo of the Neptunes, Drew has worked with artists that cross nearly all musical genres including Justin Timberlake, Snoop Dogg, Madonna, Bruno Mars, Robin Thicke and Gwen Stefani  - to name a few.
 In fact, more than 200 million records sold worldwide have the name Andrew Coleman on them.
 Drew credits his rise from a guitar player in a high school garage band in Southern California to a simple concept: A love of music. All music.
 Drew got his start as a teenager after his band earned enough money to record a demo. To this day, he remembers opening the doors of his first recording studio and his life was forever changed. Drew had found his true passion: making records.
 After moving to Virginia Beach, Va., Drew partnered with Pharrell and Chad, helping bring the Neptune sound to the masses and shaping some of the biggest hits of the last 20 years.
 Since the team formed, he has worked with a virtual Who's Who of popular music including those listed above along with Prince, The Rolling Stones, Chris Martin, The Edge, Beyonce, Jay Z, Destiny's Child, Britney Spears, Ce Lo, Shakira, Mariah Carey, Miley Cyrus, Mary J. Blige, J Lo, Usher, Ludacris, Nelly, Bruno Mars and most recently No Doubt.
 And, the list goes on.
 Even as he works as an engineer, producer and mixer, he continues to play guitar on records with NERD, Madonna, Ed Sheeren, Snoop Dogg, Miley Cyrus and Pharrell.
 In addition, Drew has worked on the acclaimed soundtracks for The Amazing Spiderman 2, Despicable Me, 1&2, Fast N Furious, Rush Hour 2, Dr. Doolittle, Bad Boys 2 and Barbershop 2.
 In 2003, Drew won his first Grammy for Justin Timberlake's album, Justified, in the Best Male Pop category. Justified had also been nominated for Album of the Year.
 In 2005, Drew received three Grammy nominations – two for Album of the Year with Mariah Carey's "Emancipation of Mimi" and Gwen Stefani's "Love. Angel. Music. Baby" and a nomination for Song of the Year with Gwen Stefani's "Hollaback Girl."
 In 2008, Drew was nominated for a Grammy as a Mixer with Madonna for Best Dance Recording with "Give it 2 Me" and was an Engineer on the Grammy Winning Album "Growing Pains" with Mary J. Blige.
 In 2012, Drew was nominated for two Grammys with Frank Ocean for his album "Channel Orange."  The album won Best Urban Contemporary and was a finalist for Album of the year.
 Most recently, in 2013, Drew was nominated for two Grammys: Song of the Year with Robin Thicke's "Blurred Lines" and Record of the Year for Kendrick Lamar's "Good Kid, M.A.A.D City."
 There have been several other nominated projects over the years including work with Beyonce, Ludacris, Common and Gloria Estefan.
 The only question remaining: Who's next?
                                                                 **UPDATES**
More Grammy news!! Drew has been nominated 3 times this year in the ALBUM OF THE YEAR category for his work with Pharrell, Ed Sheeran and Beyonce!  On top of that, he has 2 nominations for BEST POP VOCAL ALBUM with Miley Cyrus and Ed Sheeran and 2 nominations for BEST URBAN CONTEMPORARY ALBUM with Pharrell and Beyonce….  Wow!
**Add another Grammy to the shelf!! Drew's work with Pharrell on his second solo album entitled "GIRL" has earned him his second Grammy in the BEST URBAN CONTEMPORARY ALBUM category!!  Congrats!!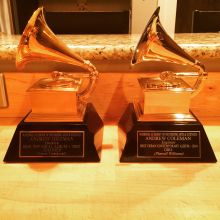 MAGAZINE ARTICLES
http://www.soundonsound.com/sos/jul05/articles/andrewcoleman.htm